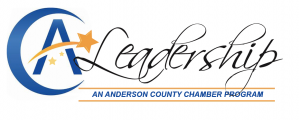 What is Leadership Anderson County?
The Leadership Anderson County Advisory Board has designed a course curriculum to develop emerging leaders, while simultaneously promoting the importance and strengths of our community. This program promotes leadership development, facilitates networking with other professionals in the community, and allows an opportunity for community service throughout the year. Local business leaders, public officials, and individuals in the Anderson County community are all invited to apply to the program.
2023-2024 Program Schedule (subject to change)
Tuesday, August 29                              Orientation Day 1 
Wednesday, August 30                         Orientation Day 2 
Tuesday, September 19                       Program Day 1
Tuesday, October 17                           Program Day 2
Tuesday, November 14                       Program Day 3           
Tuesday, January 9                             Program Day 4                                               
Tuesday, February 13                         Program Day 5
Mon, Feb 26 & Tue, Feb 27                Program Day 7   State Government (Nashville) 
Tuesday, March 19                             Program Day 8                     
Tuesday, April 9                                  Program Day 9
TBA                                                     Graduation
CLICK BELOW FOR THE DOWNLOADABLE APPLICATION.
Please return the application to Marsha@andersoncountychamber.org
What is the selection process? 
Businesses, organizations, or individuals may nominate and sponsor candidates for the program. Businesses and organizations are encouraged to sponsor a candidate from the community through our scholarship fund. Limited to Twenty-five, participants are selected based on the following criteria: Demonstrated commitment to serving the Anderson County community, current or potential leadership role within their organization or business, interest in pursuing a community leadership role, and commitment to attend the scheduled sessions.
What is the time commitment and cost?
Program Days are typically held on the 2nd Tuesday of each month. (some exceptions apply)
Time Commitment: Sessions are held from August – April
Participants are expected to commit to full-day attendance and travel on the transportation provided.
Participants are held to a strict attendance policy upon acceptance into the program.
Tuition   Non-refundable full tuition is $1,750.00 
What does the Leadership program include?
The program will focus on how the dynamics of local businesses and city, county, and state governments impact economic and community development. Class members will be introduced to business leaders and elected officials who influence the private and public sectors daily. The curriculum includes sessions on Applied Leadership Skills, Team Building, and Project Management. Tours of the area will cover all aspects of Anderson County and an overnight trip to Nashville for an opportunity to make connections at the state level and have a photo with the Governor. Once the program is completed graduates will be honored at a special graduation event.
LEADERSHIP ANDERSON COUNTY ADVISORY COMMITTEE
Chair – Sara Knight, Y-12 Federal Credit Union
Chair-Elect – Scott Page, SL Tennessee
Steven Brooks, SL Tennessee
Regina Copeland, Anderson County Courthouse
Christy Davis, Y-12 Federal Credit Union
Margaret Durgin, Child Advocacy Center of Anderson Co, TN
Chris Enix, Lake City Elementary 
Chrystal Fryre, Anderson County Career & Technical Center
Tony Fryre, Tjoapack/Parma Packaging Solutions
Amy Huckaby, Y-12 Federal Credit Union
Jessica Lively, Anderson County Preschool
Kristen Otto, Emory Valley Center
Eric Patterson, CNS/Y-12 Security Complex
Ryan Sutton, Anderson County Schools Communication / ACTV
Angela Sylvester, City of Clinton
Kristin Waldschlager, CNS/Y-12 Secuirity Complex
Candace Watson, Clinton High School 
EX-OFFICIO MEMBERS
Rick Meredith, President, Anderson County Chamber of Commerce
Marsha Stapleton, Program Director, Anderson County Chamber of Commerce
Leadership Anderson County alumni are available for questions about the program. For more information please call the Chamber office at (865) 457-2559 or email: marsha@andersoncountychamber.org.
THANK YOU TO…