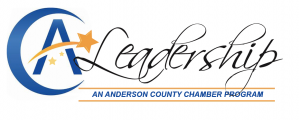 LEADERSHIP ADVISORY BOARD
OFFICERS
Michael Ousley,  Chair, Edward Jones Investments
Christy Davis, Chair-Elect Y-12 Federal Credit Union
Stephanie Sherwood, Community Project Liaison, Anderson County Schools
Traci Harrison, Secretary, Y-12 Federal Credit Union
ADVISORY BOARD MEMBERS
Callie Archer, Junior Achievement of East Tennessee
Naomi Asher, United Way of Anderson County
Steven Brooks,  SL Tennessee
Beth Farrow, Helen Ross McNabb Center
Robbie Herrell, Anderson County Schools
Anna Hurt, Anderson County Schools
Kim Maes, Methodist Medical Center of Oak Ridge
Conya Mull, ECF Member Advocate UnitedHealthCare
Stephen McNally, Oak Ridge National Laboratory
RaeAnn Owens, Anderson County Schools
EX-OFFICIO MEMBERS
Rick Meredith, Anderson County Chamber of Commerce
Marsha Stapleton, Anderson County Chamber of Commerce
Leadership Anderson County Brochure
What is Leadership Anderson County? 
The Leadership Anderson County Advisory Board has designed a course curriculum to develop emerging leaders, while simultaneously promoting the importance and strengths of our community. This program promotes leadership development, facilitates networking with other professionals in the community, and allows an opportunity for community service throughout the year. Local business leaders, public officials, and individuals in the Anderson County community are all invited to apply to the program.
What does the Leadership program include?
The program will focus on how the dynamics of local businesses and city, county, and state governments impact economic and community development. Class members will be introduced to business leaders and elected officials who influence the private and public sectors on a daily basis. The curriculum includes sessions on Applied Leadership Skills, Team Building and Project Management. Tours of the area will cover all aspects of Anderson County plus a cruise on beautiful Norris Lake and an overnight trip to Nashville for an opportunity to make connections at the state level and have a photo with the Governor. Once the program is completed graduates will be honored at a special graduation dinner.
What is the time commitment and cost? 
Sessions are held monthly from May of 2019 through March of 2020. The Enrollment fees are:  Early Bird Registration by April 5 $1250 |  Regular Enrollment – $1400
The following dates are currently scheduled for the program:
Orientation/ Team Building May 13-14, 2019 • Health/Community Day June 18, 2019 • Heritage Day July 16, 2019 • Arts/Tourism/ Culture Day August 20, 2019 • Education Day September 17, 2019 • Local Government Day October 15, 2019 • Agriculture Day November 12, 2019 • Industry/Economic Development Day December 3, 2019 • Media Day January 14, 2020 • State Government—Nashville February 24-25, 2020 • Technology Day March 10, 2020 • Graduation April 2, 2020
What is the selection process? 
Businesses, organizations or individuals may nominate and sponsor candidates for the program. Businesses and organizations are encouraged to sponsor a candidate from the community through our scholarship fund. Twenty-five participants are selected based on the following criteria: Demonstrated commitment to serve the Anderson County community, current or potential leadership role within their organization or business, interest in pursuing a community leadership role, and commitment to attend 90% of the scheduled sessions.
Applications are available online or at the Anderson County Chamber of Commerce. All applications for LAC Class of 2020 are due to the Anderson County Chamber of Commerce by April 19, 2019. Leadership Anderson County alumni are available for questions about the program. For more information please call the Chamber office at (865) 457-2559 or email: accc@andersoncountychamber.org.