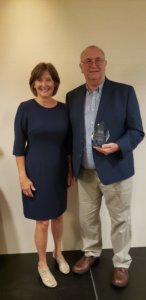 Tim Thompson came to ECD in 1992.  He was managing the Governor McWherter's Office in Knoxville when it was announced that he would be coming over to ECD.  We were used to political appointments coming and going, but Tim showed us right away that he wasn't just interested in a position, he wanted to make an impact.  He poured his heart into the job and quickly earned the respect of the communities and people he worked with.
Now, we know that recruitment was very different back then.  We didn't have websites, gps, online maps, site information, or other data at our fingertips.  When companies were looking for locations, they made a phone call and put their trust in the hands of economic developers.  So, before Wikipedia and Google Maps, there was Tim Thompson.  He has a mind for retaining facts that is amazing.  If you ask him the score of a UT game back in 1972, he can tell you that plus who made the big plays and what the weather was like.
We know that Tim is a big Vols fan.  And, you know about General Neyland's 10 maxims.  So, in keeping with that theme, I've boiled down three maxims of Tim Thompson that I want to share with you.
Maxim 1.  If it's not on the list, it doesn't exist.
A key to Tim's success was that he knew his product.  He knew every industrial site and building in the 18 county region and the community data that went with them.  He knew the partners in every county and made sure that information was kept up to date.  He would often tell communities "if it's not on the list, it doesn't exist."
Maxim 2:  If you're not early, you're late.
Tim also knew his region.  We didn't have google maps to map out a prospect visit, but Tim knew how to get everywhere and how long it would take because he'd driven it all.  If there was road construction, a fogged in airport, or some other delay, Logistics Tim would instantly recalculate the route, and keep it all on schedule.  He could take a prospect to 6 or 8 counties in a day, and he would be sure that the visit stayed on schedule.  And, if at the end of the day he could fit in one more site or building, he would do it.
Maxim 3:  Give others the recognition.
We all know that economic developers don't create the jobs and investment, but they lay the framework for companies to take that risk.  Tim built trust with companies that he had their interests at heart.  He also built trust with communities – no one could accuse him of playing favorites.  He has a special interest in helping the most distressed areas, and he's told me he is most proud of some of those company locations.  He would go the extra mile to make prospects feel comfortable with the area, including once diverting a site visit of Japanese prospects to take their picture with a camel that they spied randomly in a field in Scott County.  Through all of these accomplishments, Tim was never one to take the credit – and he always made sure that others were recognized.
During his 27 year career at the Tennessee Department of Economic & Community Development and The Anderson County Economic Development Association, Tim has been involved in over 100 projects that created 18,000 jobs and three and a half billion in investment.
Beth Phillips
Institute for Public Service
University of Tennessee